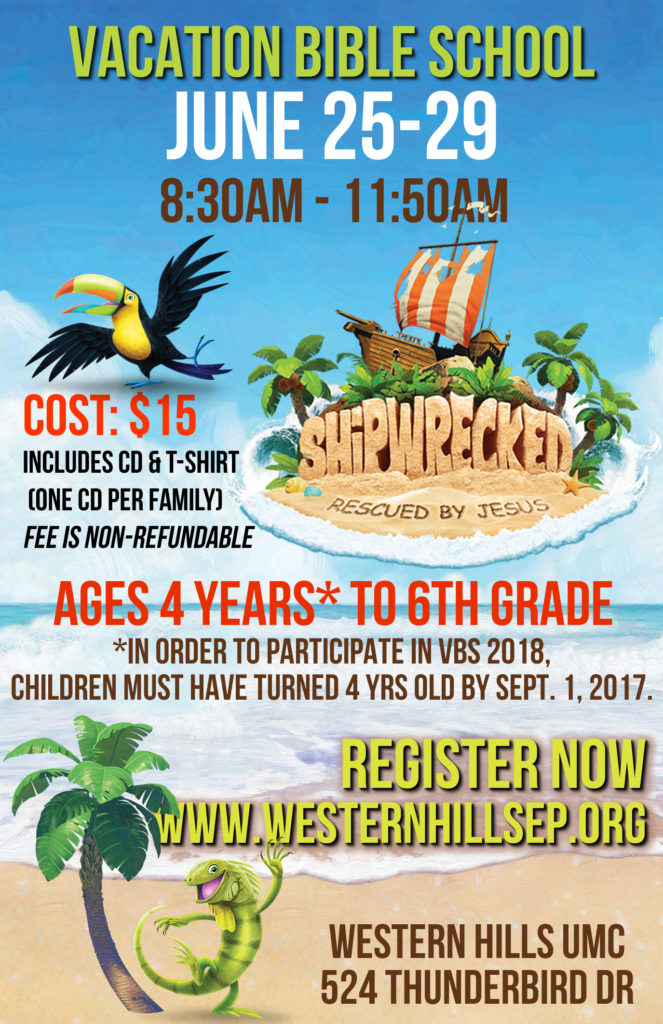 Vacation Bible School 2018
June 25 – 29 * 8:30am – 11:50am
Cost $15 – includes t-shirt and CD
*In order to participate in VBS 2018, children MUST
have turned 4yrs old
BY September 1, 2017…
making them almost 5 years old.
REGISTRATION IS A 2 STEP PROCESS…
YOU MUST COMPLETE BOTH STEPS
FOR YOUR CHILD TO BE REGISTERED.
STEP ONE – REGISTER BELOW
(Please complete the registration form below for EACH child you wish to attend VBS.)
STEP TWO – MAKE PAYMENT (EITHER ONLINE OR IN PERSON)
Click here to be taken to our online payment site.

Use the Vacation Bible School category, and MAKE SURE to put your name AND your child's name in the empty field that is next to the VBS line. If your names are not provided…we won't be able to match your payment with your child's registration.
See example below.

If you prefer to pay in person, you may make your payment at the WHUMC office located at 524 Thunderbird Dr.